Accelerated Frac Flowback 70,000 BBL Fluid
Objective: The shared goal was to, recover frac fluid as fast and as economical as possible, and bring production to the market immediately.
Results: The JJ Tech Jet Pump Flowback system was able to remove 70,000 barrels of fluid (100% recovery), in 90 days. JJ Tech's Jet Pump was able to produce 21,600 barrels of oil valued at over $2 million ($96/barrel), and 40 MMCF (40,000 MCF) of gas valued at $100,000. In addition, ($2.49/MCF) was recovered and sold as well.  The total estimated value of production was over $2.1 million.
JJ Tech's Jet Pump Flowback system, recovered in 90 days what would have taken 15 months with conventional rod pump (pumping @ 150 barrels/day).
Download PDF for complete study and enlarged graph images.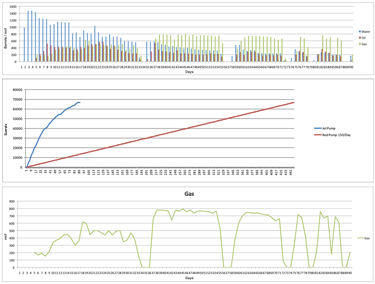 (Click to enlarge)
Advantages of Jet Pump Flowback:
Rapid frac fluid recovery helps prevent swelling of formation which can reduce permeability
Jet pump can produce high volumes of fluid (up to 4000 bpd) including frac sand
Production rates are easily adjusted for a controlled flowback
Gas can be brought to market immediately
No backpressure is put on formation (as with Nitrogen)
Software can calculate PBHP based on production volumes and injection pressure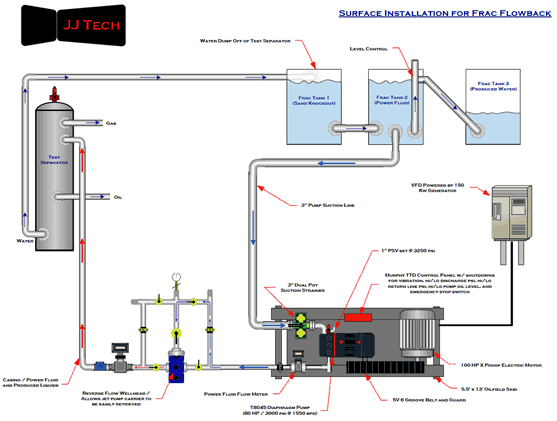 Save