Chris Lamberth, Technical Services Operations manager at JJ Tech, coauthored an article titled "Coiled tubing-conveyed artificial lift and cleanout systems optimize costs and production" that was published in World Oil magazine November 2015. The article was written in partnership with CJS Production Technologies, Source Rock Energy Partners and JJ Tech and discusses how the industry is moving toward highly deviated, horizontal well designs while pumping systems are still behind in technological advances. A suite of equipment has been developed to solve the issues that new well designs create in traditional artificial lift systems.
The November 2015 issue of World Oil magazine features one of JJ Tech's own, Chris Lamberth. The piece was prompted by a case study highlighting our trademarked JetPak™. In 2009, JJ Tech, CJS Production Technologies, and Source Rock Energy Partners came together to collaborate on a revolutionary piece of equipment, now referred to as The Jetpak. The Jetpak incorporates the CJS multistring coil tubing technology with jet pump technology. The advantages to coil tubing is that it can easily be run in a well and retrieved with a minimal amount of equipment and manpower in a short period of time. The advantages to jet pump is that it can be run at any deviation, move solids, has no moving parts down-hole, and puts no back pressure on the formation. With this technology we were able to clean out and produce a medium depth, horizontal, CBM well in Southeastern Oklahoma. The results were pleasing, to say the least. A dream team of sorts in the industry, operators do not have to kill their well to run in with the Jetpak system. The system also doesn't put any pressure on the well, reducing the risk of permanent loss of production due to formation damage. Ideal for wells that don't make enough water to justify a permanent artificial lift system, the Jetpak is also an attractive solution for operators with shallow flowing wells that tend to load up and produce solids, as well as CBM applications. In this instance, there was an average increase of 31% in gas production, per well, and two of the wells more than doubled in production. These increases came at lower costs, than the previous cleanout methods.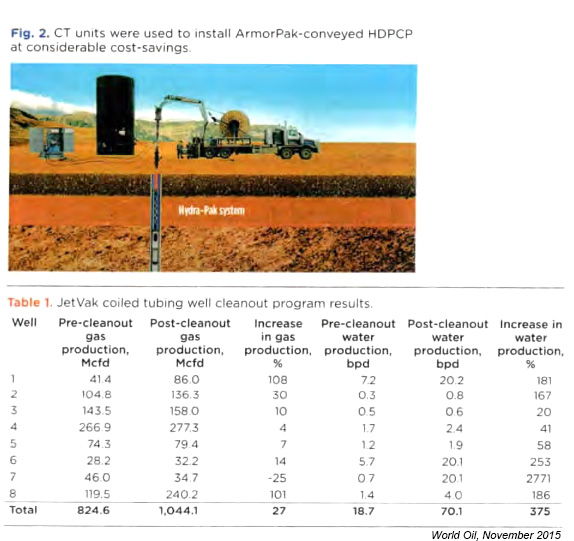 To read more about the JetPak™, and how it may help your well(s), please click on the links below, they will take you to both the World Oil article, as well as the above mentioned case study.
View PDF World Oil article: Coiled tubing-conveyed artificial lift and cleanout systems optimize costs and production
Or to go to the original article visit World Oil.