Versatile Jet Pump Technology
JJ Tech holds USA and selected foreign country patents on its line of Jet Pumps. The line was developed to produce large volumes of sub-surface formation fluids with inclusions of moderate to high solid content.
The unique patented design allows easy retrieval of the pump from deviated and horizontal wells. Retrieval of the pump from the hole for replacement of the nozzle or expansion tube is done by adjusting the surface valves to reverse the circulation of fluid with the existing production equipment. No wire line, pulling unit or work over rig is required.
These features, plus the larger flow area, direct fluid flow path and high production volumes give JJ Tech's Jet Pump a marked advantage over existing designs of jet pumps and other types of artificial lift. The small size of the portions of the pump retrieved, referred to as "the carrier", are at 6.5 inches and 8.5 inches in length, making it very attractive to clients with highly deviated or horizontal wells which require artificial lift both on land and offshore.
The JJ Tech Jet Pump line comes in a variety of sizes for handling applications such as liquid loading, deviated or crooked wellbore, directional wells, high solids, heavy oil, or various other slim hole applications or casing integrity issues.
With NO MOVING PARTS DOWNHOLE, the Jet Pump System is the most attractive solution to operators working in unique situations where dependable, efficient and cost effective artificial lifting needs are required.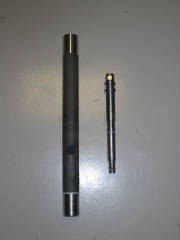 The JJ Tech 1.6 Jet Pump
– Production – Up to 600 bpd
– Slim Hole installation
– Can be run inside 2.375 tubing or larger
– Can be run on 1-1/4″ IJ or 1-1/4″ Coil Tubing or larger
– Used in de-watering of gas wells
– Used in casing isolation
– Carrier can be retrieved by reverse circulation or wire line.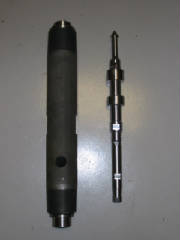 The JJ Tech 2.3/2.8 Jet Pump
– Production 2.3 – Up to 3500 bpd
– Production 2.8 – Up to 4500 bpd
– Conventional oil producing
– Can be run on 2.375 Tubing or larger
– Fits inside 4.5 casing and up
– Carrier can be retrieved by reverse circulation or wire line.
The JJ Tech 2.5 & 2.0 Select Jet
– 2.0 Production – Up to 3500 bpd
– 2.5 Production – Up to 4500 bpd
– Conventional oil producing
– Can be run on 2.375″ tubing or larger
– Fits inside 4.5″ casing and up
– Carrier can be retrieved by reverse circulation or wireline
– Wireline retrievable standing valve
– Can run in normal or reverse flow