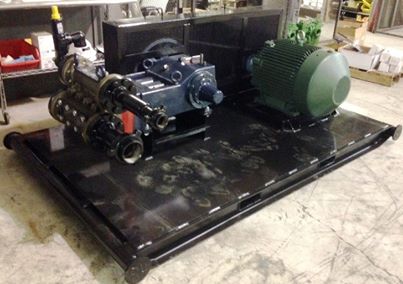 Shreveport, Louisiana (PRWEB) January 23, 2014 – The first Wanner T80100 diaphragm pump to be put in service has been placed on a location in NW Louisiana, signaling the completion of the laboratory phase of development for the new diaphragm surface pump. It is the first of three T80100 units expected to be placed in field test operation by JJ Tech.
The T80100 (rated – 3,300 BPD @ 1,500 psi.) completes the revolutionary T80 series of diaphragm pumps that began in 2007 with the development of the T8045 (1550 BPD @ 3000 psi), followed by the T8030 (905 BPD @ 5,000 psi.) in 2012.
The award winning T80 series seal-less, diaphragm pumps are designed to replace packed triplex plunger pumps and their associated problems. The T80 series pumps provide zero leakage, can run dry without damage, will operate with a closed or blocked suction line, and can effectively pump abrasive fluids. Operators are discovering that the pumps' durable design offers lower costs of ownership and maintenance, and longer life than their packed counterparts.
The exterior appearance of all three pumps is identical, and the components are the same, but the size of the plungers and diaphragms are larger in the T80100.
It is expected that due to its high fluid volume capacity, the T80100 will become very popular for SWD operation.
About JJ Tech:
JJ Tech is a US based, world-wide supplier of cutting edge artificial lift systems to the oil and gas industry. The company currently has eight international and US distributors and hundreds of hydraulic jet pumps placed throughout the world.