Shreveport, Louisiana, February 27, 2012.  J&J Technical Services, LLC ("JJ Tech") was pleased to be among the estimated 60 exhibitors and 700 attendees at the 10th Annual ALRDC 2012 Gas Well Deliquification Workshop held in Denver, Colorado February 20 thru 22.
At ALRDC, JJ Tech gave a technical presentation with Q&A entitled "New Generation Jet Pump Technology – Updates".  The presentation, which was videoed, was authored by Chris Lamberth, Operations Manager, Matt James, Project Manager, and Bill Charrier, Sales Professional.  The presentation was well received, resulting in increased interest in JJ Tech jet pump technology at the firm's exhibition booth.  Videos of the presentation may be obtained by contacting JJ Tech.
In addition to the technology presentation, demonstrations were given on how the JJ Tech patented ULTRA FLO production system, which combines its patented downhole hydraulic jet pump with the rugged Wanner Hydra-Cell diaphragm surface pump, is providing oil and gas operators with proven, dependable and cost efficient solutions for production challenges such as:
Gas Well Deliquification;
Sand Invasion;
Deviated Wells;
Horizontal Production;
Accelerated Frac Flowback; and
Saltwater Disposal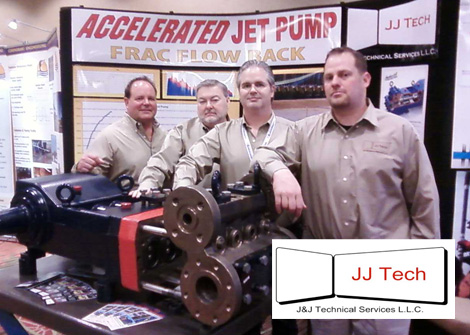 About JJ Tech
JJ Tech is a US based, world-wide supplier of artificial lift systems to the oil and gas industry. The company currently has eight international and US distributors, three new pending international distributors, and approximately 200 hydraulic jet pumps placed throughout the world.
Contacts:
Mark F. Preddy, Sr.
President and Chief Operations Officer
318-636-6904