The Q155 medium pressure pump is a five cylinder version of the Wanner T100 three cylinder pump. The addition of two more cylinders allows the pump to achieve higher flow rates with less pulsation. The Q155M is the fourth model to be tested in a series of high horsepower field tests implemented by JJ Tech. The first Q155M alpha field test pump was placed into production in March 2015 and was followed quickly by two additional field test pumps. All three test pumps were paired with JJ Tech 2.5 Select Jet Pumps and ran successfully for more than a year in the field before production models were released. The high degree of success of the Q155M is due to fact that it uses all of the same proven, successful components as in the T100M, which was first introduced in 2009.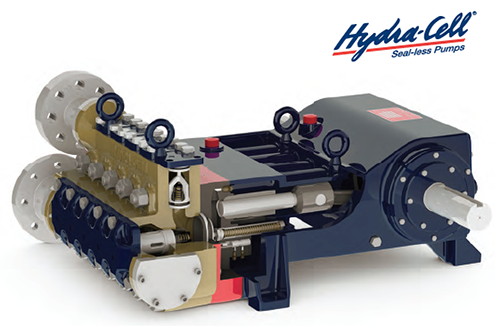 Wanner Hydra-Cell Q155 Series pumps feature an exclusive seal-less diaphragm design that eliminates packing and plunger wear, leakage, external lubrication, and emission – resulting in lower costs of ownership and maintenance as well as longer service life than traditional packed pumps.
Model Q155K:
Maximum Operating Speed: 450 rpm
Maximum Flow Rate: 2580 bpd, 78.0 gpm
Maximum Discharge Pressure: 3000 psi
Maximum Power Required: 155 hp
Model Q155M:
Maximum Operating Speed: 450 rpm
Maximum Flow Rate: 2290 bpd, 66.8 gpm
Maximum Discharge Pressure: 3500 psi
Maximum Power Required: 155 hp
Advantages of the Q155 Medium Pressure Pumps:
Seal-less design eliminates leaks, hazards and the expense associated with seals and packing
Low NPSH requirements allow for operation with a vacuum condition on the suction – positive suction pressure is not necessary
Can operate with a closed or blocked suction line and run dry indefinitely without damage, eliminating downtime and repair costs
Unique diaphragm design handles more abrasives with less wear than gear, screw or plunger pumps
Hydraulically balanced diaphragms to handle high pressures with low stress
Provides low-pulse, linear flow due to its multiple diaphragm design
Lower energy costs than centrifugal pumps
Rugged construction for long life with minimal maintenance
Compact design and double-ended shaft provide a variety of installation options
About JJ Tech
JJ Tech is a US based, world-wide supplier of cutting edge artificial lift systems to the oil and gas industry. The artificial lift company currently has eight international and US distributors and hundreds of hydraulic jet pumps placed throughout the world. Please refer to our website, jjtech2dev.wpengine.com, for more information and to register to receive future press releases by e-mail.
Save