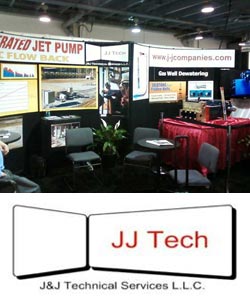 SHREVEPORT, LOUISIANA, May 8, 2012.  J&J Technical Services, LLC ("JJ Tech") has participated for the fifth consecutive year as an exhibitor at the Offshore Technology Conference ("OTC") held at Reliance Park in Houston, April 30 – May 3, 2012.
Showcased for the first time at OTC was the JJ Tech 2.0 Select-Flo Hydraulic Jet Pump, introduced in October, 2011.  Notable features of the new pump are its more versatile bottom hole assembly, which allows it to be run in normal or reverse flow configuration, and larger internal flow passages, which increase efficiency.
Also showcased for the first time by JJ Tech at OTC was the Wanner T8030 Diaphragm Surface Pump.  Introduced in December, 2011, the 80 hp. pump is rated at 5,000 psi and 905 BBLS/day, making it well suited for concentric string completions such as those used in gas well dewatering.
Both the 2.0 Select-Flo and the T8030 are expected to be deployed frequently in the patented JJ Tech ULTRA-FLO production system, which addresses such issues as gas well dewatering, sand invasion, horizontal and deviated well production, saltwater disposal and accelerated frac-flowback.
At OTC, JJ Tech professionals had the opportunity to meet with several current and potential distributors, and to co-host a dinner with close associate Wanner Engineering, Inc., manufacturer of the T80 series diaphragm surface pumps.
About OTC
Attendance at the 43rd annual OTC reached a 30-year high of over 89,000 industry professionals from 110 countries, third highest in show history, and up 14% from 2011.  The sold out exhibition, with 2,500 exhibitors representing 46 countries, was the largest in event history at over 640,000 square feet.  OTC is the world's foremost event for the development of offshore resources in the areas of drilling, exploration and development.
About JJ Tech
JJ Tech is a US based, world-wide supplier of artificial lift systems to the oil and gas industry. The company currently has eight international and US distributors, three new pending international distributors, and approximately 200 hydraulic jet pumps placed throughout the world.